WHAT YOU ARE GETTING TODAY IS A GLIMPSE INSIDE MY WORLD...
WARNING: What You May Read Below Is Quite Candid... Enjoy Yourself!
February 26, 2006
Here are a couple videos of my super genius baby doing sign language. It doesn't look like much to an adult or non-parent but it is leaps and bounds above the average coordination and skill of most kids her age. At first, we struggled, showing her signs she ignored but now, we can communicate with her freely. In the first one, she shows the signs for "All Gone" meaning she ran out of milk, sippy drink, snacks or whatever. She will raise both hands in the air like, "Whatever," and that means she is ready for more... Next, we have the sign for "Fish" which is a little wiggling motion where she moves her little hand forward to give the cue. Asia is doing this to film a few tricks so she can show it to friends and Catty gets mad because she said, "Fish," did the sign, but wasn't taken to the fish afterwards, laughs. After that is the movement of opening and closing the hand into a fist to ask for "Milk" and the sign for wanting to drink water. That one is something like holding a cup and turning the wrist back and forth towards you as if to say, "My glass is empty." Pretty neat, eh? CLICK HERE TO WATCH

Ok, this clip shows Catty trying to say, "Meow, meow, meow," at the end of this silly little song called Chimichanga Catty, lol.... Next, she does the milk thing... Waves, "Hi," and claps like she does when Mommy or Daddy rolls a strike when bowling, laughs... But the amazing one is last, the sign for, "Change," or diaper changing time. She knows we are going to change her diaper or to tell us when she needs a change herself by facing both hands towards you palms facing then waving them in and out at the same time. Cute, right? Well, she didn't need a change so she was confused. Instead, she looked over and pointed to the diapers when Asia gave her the sign (just as impressive if you ask me)... Ok, Proud Papa out… CLICK HERE TO WATCH
February 19, 2006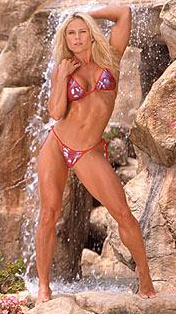 Well, well, well... Look who is coming to dinner... Ms. Monica Brant (Ms. Fitness Olympia, Ms. Fitness USA, Ms International, etc, etc). That is correct, the long time Queen of Fitness is coming to St. George for my DVD shoot! Isn't that great news? Not only will this DVD be available in every single outlet we can arrange for, but we've added a little "Star Quality" to boot! Hey, wait... I'd better buckle down or else she's going to get all the attention! Actually, Asia has been telling me everyday how much my body is changing while getting ready for our DVD shoot in 27 days (but who is counting). She especially likes the way my stomach looks but I haven't worked my abs in years and this next month will be no exception. While you know I am being dramatic for entertainment purposes...
Still, my abs are in fact getting more defined but it is from working out with weights every 3rd day on all other body parts (skipping abs) and making sure my meals are equal in calories. There's no other secret. Sure, I am eating 8 times a day (once every two hours), separating my foods accordingly and using my supplements but it is a loose debate that adding situps or crunches will speed up the process. People who think training abs in the morning, evening, before a workout, after a workout, as a workout or at any other time versus another does anything for them are wrong. Someone who debates the issue is simply someone who isn't eating clean. Like it or not, eating low fat foods, low carb meals, or whatever fad it is you are sold on, there is a reson you cannot burn that fat off your gut. The diet is all wrong. Accept the facts, folks...
If you say you are dieting but still have a waistline you want to hide, or it seems you are only getting fatter but doing exercise for your abs anyhow, that diet doesn't work. And it won't, unless you're on drugs, which I always assume you aren't... As for adding more cardio to your schedule, that too will backfire. Increased aerobic activity only works if the body is already lean. This is true because that sort of exercise primarily uses up the body's current preferred choice of fuel... If you are carrying a lot of fat, you are apparently not burning a lot of fat. So guess what the fuel is going to be if it isn't fat while you huff and puff through a Spinning class? Muscle and other necessary fluids otherwise required for fat loss, as evidenced in people that still have "baby fat" when dieted down and looking string beans in the muscle department (again, only or diet drugs can change these facts)... Ask this client... CLICK HERE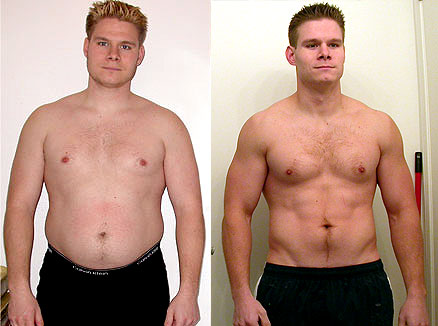 February 15, 2006
My week went well, how was yours? I even bowled 164 and 168, had 3 strikes in a row for a "turkey" and rolled 5 strikes in one game to boot... I am officially addicted to the sport! But this week was also the time of year sweethearts unite! For Catalina's first Valentine's Day and the wife and I's 3rd, we had a wonderful dinner consisting of elk in a sun dried tomato and mushroom sauce, garlic potatoes, fresh sourdough bread and maple butter, washed down with probably the best wine I had ever had (savory).
Once dinner was over, back on the wagon folks! I have a video shoot scheduled in 30 days. Would anyone like to come be a part of it? I have a few surprise guests that you will recognize from the fitness magazines scheduling to arrive for one of the two days... Should we expect you as well? Drop me a line if so...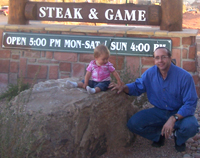 The other day I noticed jars of Ghee Butter*, Tahini (like peanut butter but made from sesame seeds), all-natural PB and even Coconut Butter sitting on the shelf going to waste. Growing tired of looking at them every time I was on a snack search, I finally busted them open... Thinking, "Hmmm, if I drain the oil from the jars, mix the PB and tahini... Add enough coconut to soften the goop... Then put in several scoops of my protein powder to thicken it all up again... And maybe some of my essential fatty acids oil and ghee (which is soft and runny) to soften it one more time...." Well, it grossed Asia out but let me tell you, I have created a nice celery spread that is high in essential fats, contains a complete protein and is now in my mouth as I type my updates.
In case you are curious, there are 560 grams of protein, maybe 100 carbs and 280 grams of fat in the container sitting in my fridge and I will probably eat a little bit each day for the next 2 weeks until it is gone.... That translates into 40 grams of protein, 12 carbs (with celery) and 20 healthy fat grams a day... or 430 cal a meal, which is right up my alley these days... Besides, I need to look my best in 30 days, not like I ate a tub of lard all in one sitting. I am on track too, Asia said I looked so much like a cancer victim from eating tighter since January that she forced me to buy pants with a waistline 2 inches smaller. Funny, I have only lost 5 pounds on the scale...
*Ghee is the name for anhydrous butter fat in India, where it is prepared in large quantities; it is commonly mixed with the milk fat of the water-buffalo. The full name is usli ghee, and the spelling ghi is sometimes used, or in Sanskrit, ghrta. Ghee is the chief form of cooking oil in many Indian regional cuisines; it is also used medicinally and plays a part in some Hindu religious ceremonies.
In other news... Does anyone here remember my "bashing" the owner of Herbalife for his cocaine addictions and then catching all sorts of hell for it afterwards? Much like when I said Dr Atkins didn't die from a fall and the Mayor of New York saying the guy that wrote the Atkins Diet was fat? Well, look at this news piece published today. Seems Herbalife is tired of denying it and is flat out allowing the truth to be told in an effort to excel business again (crazy):
"Herbalife International thrived under founder Mark Hughes. Handsome, young and buoyed by his rags-to-riches story, Hughes built a billion-dollar business over two decades by inspiring legions of people around the world to buy and sell his nutritional supplements and other health products. But his death in 2000 from a drug and alcohol overdose sent the company reeling." - Associated Press, Feb 15, 2006
So, who wants to call me a liar now? <insert evil laugh>
Guess what is officially open to new members? My "Best Shape Of Your Life" Transformation Website! Yeah! We finally finished things up (mostly, you know we will be adding new features every week from now on) so if you want personal interaction with me, want to see what other people on the program are up to, drop on by today!
February 5, 2006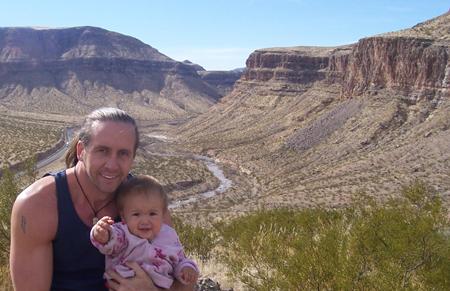 What's the good word? Long day, long week, lots of work completed and we even climbed another volcano. We love that! Catty loves it! But the best part was getting the best meal ever at Denny's afterwards. I ordered their grilled chicken breast but asked for mushrooms and onions instead of potatoes along with green beans… And I couldn't believe I was eating at Denny's! You guys rock! Typically, my latest favorite "after" exercise snack is Fig Bread. This stuff is amazing, see for yourself: CLICK HERE
How was your weekend? Ours – BUSY. Not only was Catty in a beauty contest this weekend and won herself some prizes, but the National Enquirer contacted us about using her as America's Prettiest Baby or something like that! What a week! And what a show! I was the only father who took their baby onto the catwalk (it was all mothers otherwise). Asia is a little shy, and that is fine because I got to see my beautiful wife glowing like the sun with pride from the stage. I am proud of both my girls to no end. Will we do it again? Yes, but only until it gets silly. I am totally against pageants that require children to dress up (wear makeup, modern hair styles, etc) and otherwise portray themselves as adults instead of kids. We'll only do this while it is fun. Speaking of fun, fingers crossed for the Pittsburgh Steelers today in Super Bowl 40 (XL)!
In other news… The new Know How DVD filming dates are being selected for mid-March with another possible shoot in Chicago this May with my chocolate brother Don Lemon, the NBC Newscaster involved (both on and off the screen). If you want updates on this sort of stuff that doesn't appear in my blogs (like pictures of Catty with her trophy and free book giveaways) visit the message board. Besides, we have posted nearly 20 chapters of the all new Planet of the Gods book I wrote with Steven Poor and Mike Coy for you to preview. We also started a Birthday thread so we can keep track of your "special days" and give out prizes to certain people who have contributed - so please come fill us in there...
COMPLETE PROTEIN POWDER: Remember, for a limited time only, you can get 5 extra servings free in our new liter sized containers. Take a look at the charts we used to compare our quality and prices to National level brands and you'll see who is really the best… Don Lemmon's Complete Protein Powder

I was recently contacted to appear on the Kathy Griffin reality show as her nutritionist but one of her producers felt it might be a bad idea so the gig was dropped. Are you familiar with certain actors (cough, Tom Cruise) that only hire other actors to be on film with them that aren't taller than they are? Well, I fell victim to a similar circumstance. No, I wasn't given the boot because I am taller than Kathy, who I am a fan of either way; she just needed someone that was a bit more "clinical" for that particular episode. As crazy as that seems, it is cool with me because the other producer said he wants to meet up the next time I am in L.A.
Rick Emerson, the Oregon based radio show host and author recently did an interview for me at Pizzazz Magazine and after dropping by his site to say hello, I found this:
"If you don't want to be Don Lemmon, you have died inside. He's got a bodybuilder's physique, he knows the guys in KISS, he's married to Asia Carrera, and he lives just outside of Las Vegas. Go drool at the life you wish you had at donlemmon.com."
Now – THAT is funny! It reminds me of the guys at Sex Ed 101 who posted something similar after I married Asia Carrera. And last, but not least, Carlos Espada of KISS Nation, the best KISS tribute act around (ask Gene and Paul if you must) has asked Don Lemmon Productions to manage their band. While I am not sure I can do that being involved with so many other projects, I do think we can drum them up some gigs. If you happen to know a club near you that wants KISS Nation to perform, drop us a line - I am sure we can work something out where you profit too: CLICK HERE
Don Lemmon's Best Shape Of Your Life



CLICK HERE